The Mississippi Medicaid MMIS Replacement Project
The Mississippi Division of Medicaid (DOM) is working with a vendor to develop a new Medicaid Management Information System (MMIS) to replace the aging Envision system, which has been in use for many years. The new provider-enrollment and claims-processing solution is called MESA: Medicaid Enterprise System Assistance, and the agency's goal is for this modernization to enhance connections between health services systems and improve access to health information for our Medicaid providers and the members they serve.
The new system – MESA – is expected to go-live later in 2022, replacing outdated technology with a more efficient version that is easier to maintain. Recognizing how critically important it will be to ensure a smooth transition, DOM is focused on providing clear information and resources over the coming months to help all providers prepare for the switchover.
Although it will be an adjustment, MESA will allow for some distinct advantages over the current system. For example, a new and improved provider portal will allow for a streamlined provider-enrollment process. Healthcare providers will be able to submit and adjust claims in real-time for each claim type and submit batches of transactions, as well as verify a patient's eligibility status quickly and easily. The new system will also allow for a centralized credentialing process, eliminating the need for providers to credential with DOM and each coordinated care organization.
Latest Updates
As the new system gets closer to go-live, the latest updates and news notices will be posted here, including information on how providers can test Electronic Data Interchange (EDI) transactions.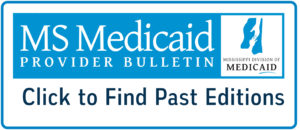 Electronic Data Interchange (EDI) Technical Documents
In preparation for go-live, each DOM trading partner must undergo Electronic Data Interchange (EDI) testing to ensure the integrity of electronic transactions. EDI testing will begin in the coming months, and trading partners will need to register to be able to test EDI submissions to MESA. Click on the button below to find preliminary Companion Guides, which describe the specific technical and procedural requirements for interfaces between DOM and its trading partners.