The Office of Long Term Care is responsible for ensuring that all providers of 1915(c) home and community based waiver services for the following waivers meet enrollment requirements as documented in the CMS approved waiver applications.
Agencies may currently apply to enroll as providers of Personal Care services, In-Home Respite services or Adult Day Care services under the Elderly & Disabled (E&D) Waiver or Assisted Living services under the Assisted Living (AL) Waiver.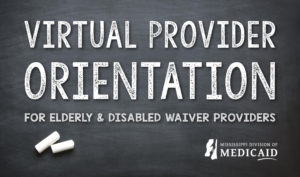 All potential E&D Waiver providers must complete mandatory provider orientation prior to submitting a provider proposal to the Office of Long Term Care for review. The orientation is now available virtually and the presentation can be viewed here.
Please email HCBSProviders@medicaid.ms.gov or call 601-359-6141 with any questions. Provider type specific proposals as well as the associated Quality Assurance Standards are linked below.
Coronavirus/COVID-19 Resources for HCBS Providers
1915(c) HCBS Waiver Background Checks
1915(c) HCBS waiver providers are required by Administrative Code to conduct a national criminal background check with fingerprints on all employees and volunteers prior to employment and every two (2) years thereafter. The training presentation linked below outlines the process for providers to obtain these required checks through the Mississippi Department of Health (MSDH) .
1915(c) HCBS Waiver Training Requirements
1915(c) HCBS waiver providers are required by Administrative Code to ensure all staff meet training requirements as defined by the Division of Medicaid.  The provider type specific memorandums linked below define the current training requirements for all direct care staff.