Pharmacy providers billing directions for COVID-19 vaccines via NCPDP D.0 pharmacy claims
Updated Jan. 8, 2021
The purpose of this notice is to update the COVID-19 vaccine administration fees for pharmacy providers to 100% of Medicare rates. Two-dose series vaccine administration fees are $16.94/first dose and $28.39/second dose. The administration fee for single-dose vaccines will be $28.39. Dispensing fees will not be paid for vaccines. Fee-for-service claims with dates of service prior to this update (which paid at 90% of the Medicare rate) will be adjusted by Conduent.
Updated: Effective March 15, 2021, the COVID-19 vaccine administration fee  for pharmacy providers is $35.87 for both doses  of the two-dose vaccines and $35.87 for the single-dose vaccine.
Background
Doses of COVID-19 vaccines are now available in Mississippi, and the Mississippi State Department of Health has developed a plan on how Mississippians will be prioritized to receive the vaccine. Find more information at Vaccination Against COVID-19 – Mississippi State Department of Health (ms.gov)
Effective Dec. 11, 2020, the Mississippi Division of Medicaid (DOM) will reimburse Medicaid-enrolled pharmacy providers for COVID-19 vaccine claims billed on NCPDP D.0 pharmacy claims. Currently, the vaccine itself is being provided at no cost to providers and patients by the federal government, but DOM will still require submission of the vaccine NDC#s on claims to ensure the appropriate administration fees are being billed for the vaccines given.
COVID-19 is not included in the Vaccines for Children (VFC) program, and therefore pharmacy providers do not have to be enrolled as VFC providers in order to administer COVID-19 vaccines to beneficiaries younger than 19 years of age.
 DOM is following guidance found in the following documents:
 CMS' State Medicaid Plans Toolkit entitled, "Coverage and Reimbursement of COVID-19 Vaccines, Vaccine Administration, and Cost Sharing under Medicaid, the Children's Health Insurance Program, and Basic Health Program," update Dec. 17, 2020.
NCPDP Emergency Preparedness Guidance – COVID-19 Vaccines
CDC COVID-19 Vaccination Program Provider Agreement
 Medicaid Pharmacy Provider Requirements
Qualified pharmacists must comply with any applicable requirements (or conditions of use) as set forth in the CDC COVID-19 vaccination provider agreement and any other federal requirements that apply to the administration of COVID-19 vaccines. Please review full details under Section V: Other Federal Requirements and Considerations on pages 24-30 of the CMS State Medicaid Plans Toolkit.
Pharmacists should also refer to the Mississippi State Board of Pharmacy requirements at: HHS and Board Recs .pdf (ms.gov)
Long term care residents with full Medicaid benefits
The first phase of vaccine distribution has begun to hospitals and health facilities for administration to those involved in COVID-19 patient care. Long term care facility residents and staff are also considered as first priority for vaccination.
Pharmacy providers going onsite to long term care facilities to administer vaccines are considered "outside providers," and therefore they allowed to bill Medicaid directly to administer vaccines for residents who have full Medicaid benefits. The long term care facility cannot claim the cost on the Medicaid cost report. Please refer to Mississippi Administrative Code, Part 224, Rule 1.4.B.
Pharmacy providers cannot bill COVID-19 vaccines administered to Medicaid beneficiaries who are dually eligible for Medicare and Medicaid. Medicare must be billed.
NCPDP D.0 Claim Billing Requirements for COVID-19 Vaccines
Quantity Dispensed – Submit the total milliliters (ml) administered in field 442-E7
Days Supply – Submit a value of '1' in field 405-D5 whether administering a single-dose or a two-dose vaccine.
Prescriber ID Field – Pharmacist prescriptive authority applies to COVID-19 vaccines, therefore, the pharmacy provider's NPI # may be entered in the Prescriber ID Field, if the vaccine is being administered without a prescription or without a physician collaborative agreement.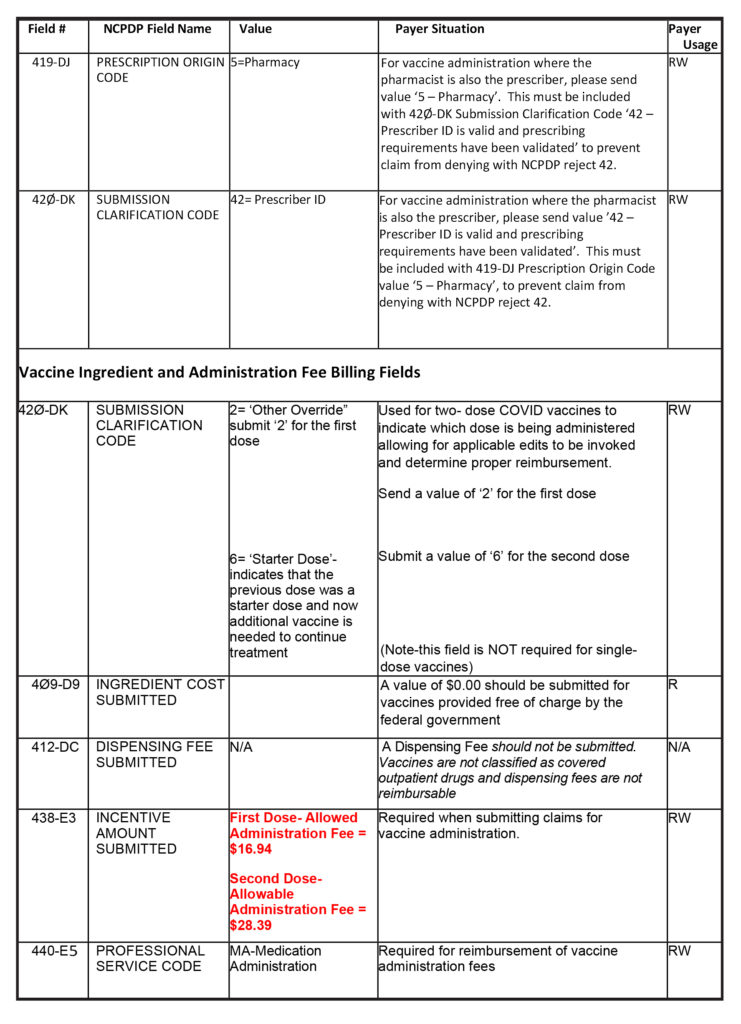 Pharmacy providers are urged to check their software systems to ensure that these fields are accessible and configured for billing before the COVID-19 vaccines become more widely available to most pharmacies.
Originally published Dec. 29, 2020