Medicaid lifts prescription limits in response to State of Emergency
The Mississippi Division of Medicaid has enacted its State of Emergency provision which allows fee-for-service beneficiaries affected by the tornadoes to receive early refills and additional prescriptions above the 2brand/6prescription monthly limit.
Pharmacy providers should follow the billing guidelines found at this link: https://medicaid.ms.gov/disaster-billing-directions/.
Medicaid's Coordinated Care Organizations have also enacted their emergency procedures.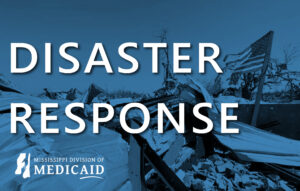 Additional Updates
1915(c) waiver case managers and support coordinators are reaching out to members in affected areas and helping to coordinate resources for those impacted by the storms.
The CCOs are also coordinating with response organizations to help provide emergency services to the tornado victims, and their members, in the impacted areas:
Molina Healthcare
Molina Healthcare's mobile unit has been cleared for use by medical personnel and community support in Rolling Fork based on coordination with MEMA and Red Cross.
Molina's team is making outreach to members in the impacted areas. Molina has 168 members in Sharkey County and 320 in Monroe County, which are impacted counties. Those efforts are ongoing by Molina's community team and care managers. Molina is also working on transporting water to the Greenville Fire Department, which is coordinating efforts for volunteers, as well as other needed supplies.
Magnolia Health
Magnolia Health's population health teams are mobilized and visiting shelters to work with members to identify needs and ensure that they have needed medications. So far the greatest request has been for drinking water, and Magnolia is working to have deliveries made to Amory and Rolling Fork. Magnolia is developing a plan to deliver survival supplies, diaper bags, baby formula and other necessities. Provider Relations is actively making outreach to key providers to let them know we are ready to help in any way we can.
UnitedHealthcare Community Plan
UnitedHealthcare Community Plan (UHC) is assessing member needs. The care management team is making outreaches across the impacted areas to assess. UHC is planning other activities, UHC is preparing formula, diapers, water needs. The population health team is identifying members in impacted area.