Intended contract awardees are TrueCare, Magnolia Health Plan, and Molina Healthcare
JACKSON, Miss. – In December 2021, the Mississippi Division of Medicaid (DOM) released a competitive solicitation, known as a request for qualifications, seeking at least two but no more than three contractors to administer the statewide Mississippi Coordinated Access Network (MississippiCAN) and the Mississippi Children's Health Insurance Program (CHIP). Five prospective contractors, or offerors, submitted qualifications in March 2022.
After an extensive evaluation of qualifications by Medicaid subject matter experts, DOM is providing notice of intent to award contracts to three offerors: TrueCare, Magnolia Health Plan, and Molina Healthcare.
Final scores and rankings for the five offerors submitting qualifications are included below: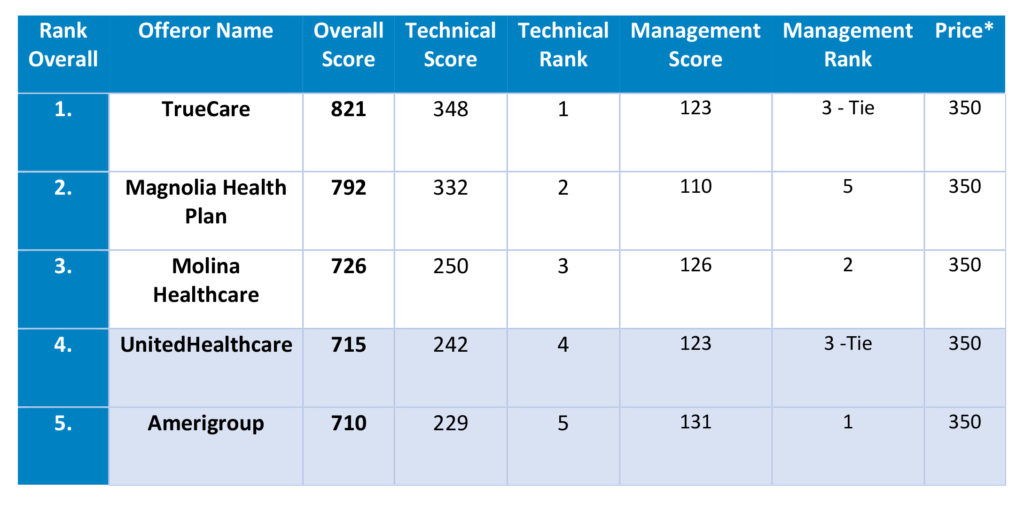 The notice of intent to award contracts does not complete the procurement process. Award protests, which are common in managed care procurements across the country, may be filed. Contracts between DOM and any winning offeror may not be executed until approved by the Public Procurement Review Board.
As the procurement process continues, MississippiCAN and CHIP members will continue to receive services through their existing coordinated care organizations.
To learn more, read the Procurement Overview and Evaluation Committee Report and Appendices on DOM's website at: https://medicaid.ms.gov/coordinated-care-procurement/.
* State statute requires that Price be included as a scored factor in any RFQ, with a value of at least 35% of the score. See Miss. Code Ann. § 31‐7‐413(2)(a); see also PPRB Rule 3‐204.01.3. Evaluation Factors. Because the subject contract is paid through a capitated payment, Offerors did not submit any information regarding Price with their qualifications. Every qualification was awarded 350 points for Price, without exception, leaving 650 points for competitive evaluation scoring.
Published Aug. 10, 2022