DOM releases Request for Qualifications
JACKSON, Miss. – Ten years after the launch of MississippiCAN, the Mississippi Division of Medicaid (DOM) is poised to usher in a new era of the coordinated care program focused on improving outcomes and quality of life for Medicaid members as it begins the procurement process for new vendor contracts.
Today DOM is releasing a Request for Qualifications (RFQ), seeking qualified vendors who will build on the foundation established over the past decade.
With 10 years of groundwork, DOM has had the opportunity to build an infrastructure to deliver services, review data, conduct analyses of the coordinated care organization (CCO) framework, and chart a course for DOM and contracted CCOs to deliver the best possible services to Mississippi's Medicaid population.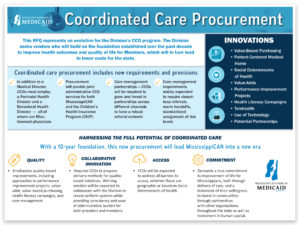 With this procurement, DOM will for the first time seek joint administrative CCO services for both MississippiCAN and the Children's Health Insurance Program (CHIP), an approach that will ease administrative burdens and promote strong oversight.
The new procurement represents an evolution for the coordinated care program, as DOM seeks vendors that will be expected to improve health outcomes and quality of life for members, which will in turn lead to lower costs for the state. Quality and collaborative innovation are at the center of the new procurement, with enhanced requirements for care management, patient-centered medical homes, and performance improvement projects. And practice guidelines for providers have been standardized to help relieve provider burden.
The procurement will also require new initiatives such as coordinated health literacy campaigns, equitable value-based purchasing models, and requirements for community-based partnerships. Each new or improved initiative includes specifications to address social determinants of health, ensuring that members will benefit from a holistic approach to coordinated care. And in addition to medical directors, each contracted CCO will be required to have a perinatal health director and behavioral health director on staff, all licensed in Mississippi.
Furthermore, the new contracts awarded through this procurement will not include the administration of pharmacy services by multiple vendors. In response to 2021 legislation, DOM is pursuing a single pharmacy benefits administrator outside the scope of the coordinated care procurement.
By following an RFQ process, which was approved by the Public Procurement Review Board (PPRB) in June, DOM will have the ability to assess an offering vendor's experience and proposed methods for service delivery, as well as vendor's abilities to innovate and improve the quality of services available for Medicaid members. Successful offerors will submit a thorough, feasible, novel RFQ proposal backed up with clear plans for enacting the proposal and evidence of the necessary resources and capability.
The new contracts will have a four-year term with two optional extension years.
Offerors are required to submit a letter of intent by Jan. 7, 2022, and proposals are due in March. After a thorough evaluation process, new contracts will be awarded in mid-2022. The timeframe for evaluation will depend on the number of offers received. The current coordinated care contracts took effect on July 1, 2017.
To learn more details about the procurement or to view the RFQ, visit the Coordinated Care Procurement page at: https://medicaid.ms.gov/coordinated-care-procurement/.
Published Dec. 10, 2021