Supplemental payments to be advanced in May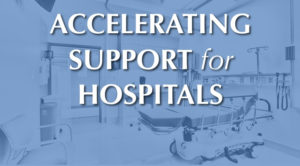 In an effort to help Mississippi hospitals combat the COVID-19 pandemic, Governor Tate Reeves has announced that the Mississippi Division of Medicaid (DOM) is accelerating supplemental payments to hospitals, making almost $160 million in funds quickly available where the most intensive treatment is being performed.
Hospitals received $92 million in advanced payments through the Mississippi Hospital Access Program (MHAP) on May 1, and will receive $66 million in early Disproportionate Share Hospital (DSH) payments by May 14.
"Medicaid is a critical component of the healthcare system, and we are committed to assisting our frontline healthcare professionals in the fight against COVID-19 by leveraging available resources," said Drew Snyder, DOM executive director.
DOM will explore additional payment policy reforms as the public health crisis continues to unfold.
Published May 5, 2020; Updated May 6, 2020