Stay Covered website to keep members, partners informed of latest updates, resources
Following the passage of the Consolidated Appropriations Act (CAA), states will soon return to routine eligibility operations, and the Mississippi Division of Medicaid (DOM) will begin re-qualifying all Medicaid members this spring.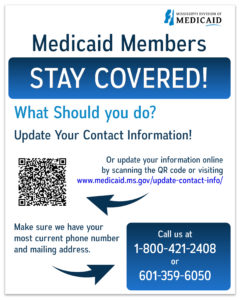 It is very important for Medicaid members to update their contact information by visiting www.medicaid.ms.gov/update-contact-info/ or calling DOM at 1-800-421-2408 or 601-359-6050.
To keep Medicaid members – as well as providers and advocacy groups – informed of the latest information, FAQs, alerts and other resources, DOM has launched a "Stay Covered" website at www.medicaid.ms.gov/staycovered/.
Help DOM spread the word by sharing the attached flyer (click on the image to open) and looking for additional resources as they become available at www.medicaid.ms.gov/staycovered/.