With the start of a new school year in the midst of the COVID-19 pandemic, the Mississippi Division of Medicaid (DOM) has extended its emergency telehealth coverage to include schools as temporary originating site providers. The move makes it possible for schools without school nurses or school-based clinics to access telehealth services.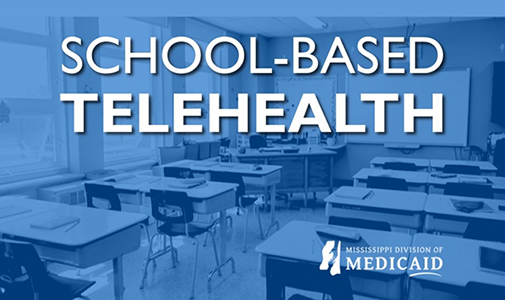 Effective Aug. 1, 2020, schools are approved as temporary telehealth originating site providers on the condition that services are facilitated by a telepresenter acting within their scope of practice and license and/ or certification.
Traditionally, telehealth services are delivered by an enrolled Mississippi Medicaid provider located at a distant site to a beneficiary located at an originating site, such as a clinic. DOM's telehealth policy already allowed school-based clinics – staffed by a physician, nurse practitioner or a physician assistant providing well and sick care – to serve as an originating site for a beneficiary in need of services beyond the clinic's abilities.
The amended Emergency Telehealth Policy allows any school to serve as the originating site as long as the distant site provider uses a telepresenter who meets the definition of Miss. Admin. Code Part 225, Rule 1.1.D. Telepresenters can include registered nurses employed by a school/school district or staff employed by a Rural Health Clinic, a Federally Qualified Health Clinic, or private provider.
Ryan Kelly, executive director of the Mississippi Rural Health Association and the Mississippi Telehealth Association, says many parents work long distances away from the schools their children attend, and leaving work to take them to a clinic visit is often a burden on both the parents and the school itself.
"We are very pleased that the Mississippi Division of Medicaid has worked to expand its policy. This will allow students to stay in school longer, parents to be able to stay at work longer, and for care to be provided in a more timely and efficient manner," Kelly said. "Not only is this a direct cost savings to the State of Mississippi, but it will provide significantly better and more timely care for our treasured youth in Mississippi."
DOM Executive Director Drew Snyder said this was the latest step in supporting the state's response to COVID-19.
"Extending telehealth coverage has been a key part of ensuring access to care during this public health emergency," Snyder said. "As children return to the classroom, increasing access in school settings is more important now than ever."
To learn more, read the Emergency Telehealth Policy at: https://medicaid.ms.gov/wp-content/uploads/2020/08/DOM-Emergency-Telehealth-policy-V8_7.31.2020.pdf.
Published Aug. 17, 2020