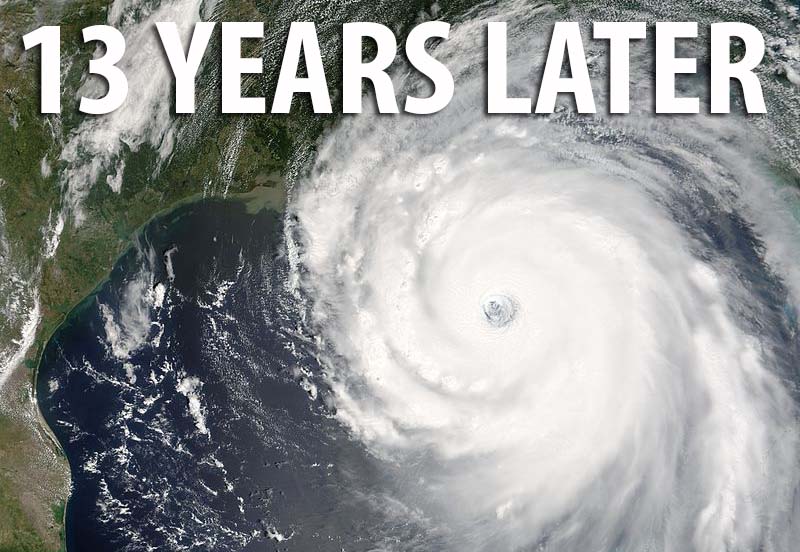 Thirteen years ago Hurricane Katrina made landfall on the Mississippi Gulf Coast on Aug. 29, 2005, and changed the lives of millions of people. Three years ago on the 10th anniversary, two Mississippi Division of Medicaid employees shared their stories of how the storm personally impacted them and made the agency stronger as a result.
(Originally published August 2015)
Tina Johnson, Picayune regional office
Tina Johnson, director of the Picayune regional office, calls Hurricane Katrina "the great teacher."
She recalls that the Picayune regional office had just opened in 2005, and she and her husband moved to Picayune from Gulfport just two weeks before the storm hit.
"Here at the Medicaid office we didn't prepare nearly as much as we do now," she said. "I think we were expected to come to work Monday because nobody knew what to expect."
Johnson and her staff spent that Saturday at the office unplugging electronics, wrapping up computers and covering the file cabinets.
"And we were grateful for that because when it hit, the Picayune office was severely damaged," she remembers. Hurricane winds tore part of the roof off causing rain damage inside the building.
However, when the office reopened in November, Johnson found that the preparation paid off.
"When the office was allowed to reopen, everything worked perfectly," she said. "No information was lost."
In the interim, Johnson and her coworkers were scattered, working out of different facilities such as Mississippi Emergency Management Agency (MEMA) sites in Polarville and Workforce Investment Network (WIN) Job Centers.
As far as her personal experiences, Johnson and her husband chose to ride out the storm at her mother's house in Hattiesburg, where they lost power for a week during a very hot, late Mississippi summer. Ironically, when they returned to their apartment in Picayune a week later, they found that the home had seemingly never lost electricity.
"As an agency, it taught us how to prepare the offices," she said. "We didn't have a plan for contacting staff, and now we have contact numbers for every employee. So that's how it was the great teacher. The agency is stronger for it; we are more prepared now."
Koteshya Guidry, Office of Accounting
Koteshya Guidry was a math teacher in New Orleans ten years ago this summer. Born in the Ninth Ward with a big family and three children at the time, the Big Easy was very much home.
When Guidry and her family evacuated the city two days before Hurricane Katrina made landfall, they intended to go to Texas, where her mother was living at the time. But the contraflow evacuation route steered them toward Jackson instead, and now she's a Mississippian.
"From New Orleans to Jackson is usually a two and a half-hour ride, but it took us nine hours to get here because the traffic was so bad," Guidry said.
The family first stayed at a Jackson hotel and then a storm shelter at Broadmoor Baptist Church for two months, where her daughter, Kassidy, celebrated her second birthday.
Eventually, most of Guidry's family moved back to New Orleans, as the city underwent its long recovery period, but Guidry, her husband Tre, and their three kids remained. They rented a house in Jackson's Midtown community.
Habitat for Humanity was allowing families who had evacuated from Katrina to rent vacant homes.
"We found jobs. I started working at Provine that next year," she said. "I taught there for a year, and then I started as a temp here at Medicaid."
At the time, Guidry was interested in trying a different profession than teaching.
"I just fell in love with the people and working with them."
Her job at the Division of Medicaid (DOM) and the connections her family made in the Midtown community are what kept her from moving back to New Orleans.
"It was just some of the people I met; I had heard rumors about Mississippi, but everyone was so welcoming," she said. "And the people I worked with here at Medicaid, they made it feel like home."
Published Aug. 29, 2018