​​​Help Medicaid Members Get Ready​
The Mississippi Division of Medicaid will begin the requalification (or redetermination) process for all Medicaid members this spring, and many households will soon begin receiving renewal forms. As Coverage Champions, you can help Medicaid members get ready for redeterminations by encouraging them to do the following:
Update their contact information.
Check their mail carefully in the coming months.
Complete the renewal form (if they get one).
More detailed information and frequently asked questions (FAQs) will be added to this toolkit in the coming weeks, but for now you can help by sharing any of the materials below and encouraging members around the state to update their contact information. Please note: If a member has already updated their information recently, they do not have to do it again. Only if their information has changed.
Stay Covered Post Cards & Flyer

For immediate use: Download and print any of these "postcards" which can be displayed at check-in or checkout counters where Medicaid members can view and scan the QR code before or after an appointment.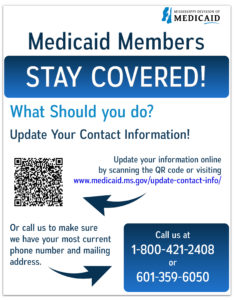 Stay Covered Social Media Posts
Social media images below are for your convenience. Click here or on any image to download a zipped file.