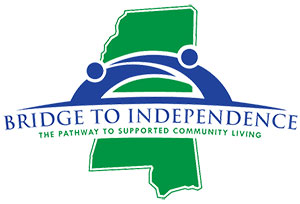 Bridge to Independence (B2I) helps people move from qualified institutions to homes in the community. It is a federal Money Follows the Person demonstration grant funded in partnership by the U.S. Department of Health and Human Services, Centers for Medicare and Medicaid Services (CMS) and the Mississippi Division of Medicaid.
Money Follows the Person is a federal initiative to help states enhance community living options for persons with disabilities and establish person-driven and sustainable long-term care systems. The program is for qualified residents of nursing homes and intermediate care facilities for persons with intermediate care facilities for individuals with intellectual disabilities (ICF/IID) who want to explore community living options.
Who is Eligible for Bridge to Independence?
Bridge to Independence is for older adults (65+) and persons with physical, mental, developmental, or intellectual disabilities who have lived in a qualified institution for at least 90 days, excluding rehabilitation days paid by Medicare. At least one of the 90 days must be Medicaid paid. The resident also must qualify for Medicaid Home and Community-Based Services.
Bridge to Independence Services
B2I transition services are available 365 days following discharge from a qualified facility. After that qualified individuals continue to receive regular Medicaid services. B2I services include:
Transition Care Management
Housing Start-Up Costs
Transportation
Extended Pharmacy Benefits
Durable Medical Equipment
Caregiver and Peer Support
Life Skills Training
Safety Planning
A Community Navigator will visit qualified residents of nursing homes or intermediate care facilities (ICF/IID) who wish to explore community living options. Community Navigators will work with residents and/or caregivers, facilities, community providers, and others to develop a transition plan through the person-centered planning process.
Residents can express an interest in returning to the community during quarterly and annual reviews. Self referrals will be accepted at any time.
Bridge to Independence Contacts
If you have questions regarding B2I or need more information, please refer to Part 208 Chapter 6 of the Administrative Code or contact the Office of Community Based Services:
Office Director, Jennifer J. Fulcher
Project Director, Charles R. Terry
Phone: 601-359-6013
Toll-Free: 800-421-2408
Mississippi Division of Medicaid
Bridge to Independence
Walter Sillers Building
550 High Street, Suite 1000
Jackson, MS 39201