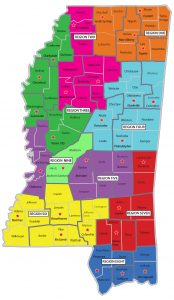 The Mississippi Division of Medicaid operates from one central office in Jackson and 30 regional offices across the state.
Although it is not required, it is always best to check with the regional office which serves the county in which you reside to obtain information about applying for Medicaid.
Office Locations
Central Office
Walter Sillers Building
550 High Street, Suite 1000
Jackson, Mississippi 39201
Regional Offices
Outstation schedule and sites – Due to the current surge in COVID-19 cases, all outstation sites are temporarily closed until further notice. DOM's 30 regional offices remain open.
Regional Office Contact Information
Brandon  |  3035 Greenfield Road, Pearl, MS 39208  |  601-825-0477  |  Fax: 601-825-2184
Serves Rankin, Simpson and Smith counties
Brookhaven  |  1372 Johnny Johnson Drive, Brookhaven, MS 39601  |  601-835-2020  |  Fax: 601-833-5429
Serves Copiah, Lawrence and Lincoln counties
Canton  |  5360 I-55 North, Jackson, MS 39211  |  601-978-2399  |  Fax: 601-956-4264
Serves Madison and North Hinds counties
Clarksdale  |  520 South Choctaw Street, Clarksdale, MS 38614-4800  |  662-627-1493  |  Fax: 662-627-5460
Serves Coahoma, Quitman and Tunica counties
Cleveland  |  211 North Chrisman Avenue, Cleveland, MS 38732-2715  |  662-843-7753  |  Fax: 662-843-4609
Serves Bolivar and Sunflower counties
Columbia  |  501 Eagle Day Avenue, Suite A, Columbia, MS 39429  |  601-731-2271  |  Fax: 601-736-7924
Serves Covington, Jefferson Davis and Marion Counties
Columbus  |  603 Leigh Drive, Columbus, MS 39705  |  662-329-2190  |  Fax: 662-329-8581
Serves Lowndes and Monroe counties
Corinth  |  2619 South Harper Road, Corinth, MS 38834-6750  |  662-286-8091  |  Fax: 662-287-9763
Serves Alcorn, Prentiss and Tishomingo counties
Greenville  |  585 Tennessee Gas Road, Greenville, MS 38701-8143  |  662-332-9370  |  Fax: 662-334-4577
Serves Washington County
Greenwood  |  805 West Park Avenue, Suite 6, Greenwood, MS 38930-2832  |  662-455-1053  |  Fax: 662-459-9754
Serves Carroll, Leflore and Tallahatchie counties
Grenada |  1109 Sunwood Drive, Grenada, MS 38901-6601  |  662-226-4406  |  Fax: 662-226-8821
Grenada, Calhoun, Montgomery, Yalobusha
Gulfport |  12231 Bernard Parkway, Gulfport, MS 39503-2528  |  228-863-3328  |  Fax: 228-868-0121
Serves Harrison County
Hattiesburg  |  6971 Lincoln Road Extension, Hattiesburg, MS 39402  |  601-264-5386  |  Fax: 601-261-1244
Serves Forrest, Lamar and Perry counties
Holly Springs  |  545 J. M. Ash Drive, Holly Springs, MS 38635-2109  |  662-252-3439  |  Fax: 662-252-6843
Serves Lafayette and Marshall counties
Jackson  |  5360 I-55 North, Jackson, MS 39211  |  601-978-2399  |  Fax: 601-956-4264
Serves Hinds County
Kosciusko  |  160 Highway 12 West, Kosciusko, MS 39090  |  662-289-4477  |  Fax: 662-289-9420
Serves Attala, Choctaw and Leake counties
Laurel  |  1100 Hillcrest Drive, Laurel, MS 39440-4731  |  601-425-3175  |  Fax: 601-425-9441
Serves Greene, Jones and Wayne counties
McComb  |  301 Apache Drive, McComb, MS 39648-6309  |  601-249-2071  |  Fax: 601-249-4629
Serves Amite, Pike and Walthall counties
Meridian  |  3848 Old Highway 45 North, Meridian, MS 39301-1517  |  601-483-9944  |  Fax: 601-486-2988
Serves Clarke and Lauderdale counties
Natchez  |  103 State Street, Natchez, MS 39120-3468  |  601-445-4971  |  Fax: 601-445-8161
Serves Adams, Franklin, Jefferson and Wilkinson counties
New Albany  |  850 Denmill Road, New Albany, MS 38652  |  662-534-0441  |  Fax: 662-534-7196
Serves Benton, Pontotoc, Tippah and Union counties
Newton  |  9423 Eastside Drive Extension, Newton, MS 39345-8063  |  601-635-5205  |  Fax: 601-635-5213
Serves Jasper, Newton and Scott counties
Pascagoula  |  1702 Denny Avenue, Pascagoula, MS 39567  |  228-762-9591  |  Fax: 228-762-7309
Serves George and Jackson counties
Philadelphia  |  340 West Main Street, Philadelphia, MS 39350  |  601-656-3131  |  Fax: 601-656-7950
Serves Kemper, Neshoba, Noxubee and Winston counties
Picayune  |  1845 Cooper Road, Picayune, MS 39466-2845  |  601-798-0831  |  Fax: 601-798-6753
Serves Hancock, Pearl River and Stone counties
Senatobia  |  2776 Highway 51 South, Senatobia, MS 38668-9403  |  662-562-0147  |  Fax: 662-562-7897
Serves DeSoto, Panola and Tate counties
Starkville  |  313 Industrial Park Road, Starkville, MS 39759-3993  |  662-323-3688  |  Fax: 662-324-1872
Serves Chickasaw, Clay, Oktibbeha and Webster counties
Tupelo  |  1742 McCullough Boulevard, Tupelo, MS 38801-7101  |  662-844-5304  |  Fax: 662-840-9941
Serves Itawamba and Lee counties
Vicksburg  |  3401 Halls Ferry Road, Suite 1, Vicksburg MS 39180  |  601-638-6137  |  Fax: 601-638-7186
Serves Claiborne, Issaquena, Sharkey and Warren counties
Yazoo City  |  110 North Jerry Clower Boulevard, Suite A, Yazoo City, MS 39194  |  662-746-2309  |  Fax: 662-746-2645
Serves Holmes, Humphreys and Yazoo counties
| Location | Address | Counties | Phone | Fax |
| --- | --- | --- | --- | --- |
| Brandon | 3035 Greenfield Road, Pearl, MS 39208 | Rankin, Simpson, Smith | 601-825-0477 | 601-825-2184 |
| Brookhaven | 1372 Johnny Johnson Drive, Brookhaven, MS 39601 | Copiah, Lawrence, Lincoln | 601-835-2020 | 601-833-5429 |
| Canton | 5360 I-55 North, Jackson, MS 39211 | Madison, North Hinds | 601-978-2399 | 601-956-4264 |
| Clarksdale | 520 South Choctaw Street, Clarksdale, MS 38614-4800 | Coahoma, Quitman, Tunica | 662-627-1493 | 662-627-5460 |
| Cleveland | 211 North Chrisman Avenue, Cleveland, MS 38732-2715 | Bolivar, Sunflower | 662-843-7753 | 662-843-4609 |
| Columbia | 501 Eagle Day Avenue, Suite A, Columbia, MS 39429 | Covington, Jeff Davis, Marion | 601-731-2271 | 601-736-7924 |
| Columbus | 603 Leigh Drive, Columbus, MS 39705 | Lowndes, Monroe | 662-329-2190 | 662-329-8581 |
| Corinth | 2619 South Harper Road, Corinth, MS 38834-6750 | Alcorn, Prentiss, Tishomingo | 662-286-8091 | 662-287-9763 |
| Greenville | 585 Tennessee Gas Road, Greenville, MS 38701-8143 | Washington | 662-332-9370 | 662-334-4577 |
| Greenwood | 805 West Park Avenue, Suite 6, Greenwood, MS 38930-2832 | Carroll, Leflore, Tallahatchie | 662-455-1053 | 662-459-9754 |
| Grenada | 1109 Sunwood Drive, Grenada, MS 38901-6601 | Grenada, Calhoun, Montgomery, Yalobusha | 662-226-4406 | 662-226-8821 |
| Gulfport | 12231 Bernard Parkway, Gulfport, MS 39503-2528 | Harrison | 228-863-3328 | 228-868-0121 |
| Hattiesburg | 6971 Lincoln Road Extension, Hattiesburg, MS 39402 | Forrest, Lamar, Perry | 601-264-5386 | 601-261-1244 |
| Holly Springs | 545 J. M. Ash Drive, Holly Springs, MS 38635-2109 | Lafayette and Marshall | 662-252-3439 | 662-252-6843 |
| Jackson | 5360 I-55 North, Jackson, MS 39211 | Hinds | 601-978-2399 | 601-956-4264 |
| Kosciusko | 160 Highway 12 West, Kosciusko, MS 39090 | Attala, Choctaw, Leake | 662-289-4477 | 662-289-9420 |
| Laurel | 1100 Hillcrest Drive, Laurel, MS 39440-4731 | Greene, Jones, Wayne | 601-425-3175 | 601-425-9441 |
| McComb | 301 Apache Drive, McComb, MS 39648-6309 | Amite, Pike, Walthall | 601-249-2071 | 601-249-4629 |
| Meridian | 3848 Old Highway 45 North, Meridian, MS 39301-1517 | Clarke, Lauderdale | 601-483-9944 | 601-486-2988 |
| Natchez | 103 State Street, Natchez, MS 39120-3468 | Adams, Franklin, Jefferson, Wilkinson | 601-445-4971 | 601-445-8161 |
| New Albany | 850 Denmill Road, New Albany, MS 38652 | Benton, Pontotoc, Tippah, Union | 662-534-0441 | 662-534-7196 |
| Newton | 9423 Eastside Drive Extension, Newton, MS 39345-8063 | Jasper, Newton, Scott | 601-635-5205 | 601-635-5213 |
| Pascagoula | 1702 Denny Avenue, Pascagoula, MS 39567 | George, Jackson | 228-762-9591 | 228-762-7309 |
| Philadelphia | 340 West Main Street, Philadelphia, MS 39350 | Kemper, Neshoba, Noxubee, Winston | 601-656-3131 | 601-656-7950 |
| Picayune | 1845 Cooper Road, Picayune, MS 39466-2845 | Hancock, Pearl River, Stone | 601-798-0831 | 601-798-6753 |
| Senatobia | 2776 Highway 51 South, Senatobia, MS 38668-9403 | DeSoto, Panola, Tate | 662-562-0147 | 662-562-7897 |
| Starkville | 313 Industrial Park Road, Starkville, MS 39759-3993 | Chickasaw, Clay, Oktibbeha, Webster | 662-323-3688 | 662-324-1872 |
| Tupelo | 1742 McCullough Boulevard, Tupelo, MS 38801-7101 | Itawamba, Lee | 662-844-5304 | 662-840-9941 |
| Vicksburg | 3401 Halls Ferry Road, Suite 1, Vicksburg MS 39180 | Claiborne, Issaquena, Sharkey, Warren | 601-638-6137 | 601-638-7186 |
| Yazoo City | 110 North Jerry Clower Boulevard, Suite A, Yazoo City, MS 39194 | Holmes, Humphreys, Yazoo | 662-746-2309 | 662-746-2645 |